Plate Heat Exchangers - Gasketed, Brazed & Packaged
A comprehensive range of WRAS approved gasketed and brazed units for all heating and cooling applications and selected to optimise performance based on rating, temperature and pressure drop criteria.
Our Packaged, Gasketed Breeze Range include:
HT-Breeze is an instantaneous water heater offering an economic solution for the provision of hot water with a quick heat up, rapid response and negligible standing losses.
Vari-E-Breeze Plate Heat Exchanger combines variable speed technology of the latest pumps for closer control of output, greater speed of response and enhanced energy efficiency and lower running costs.
Industrial Breeze Plate Heat Exchangers are generally used in harsher environments, where higher pump duties require electric motors with larger running currents.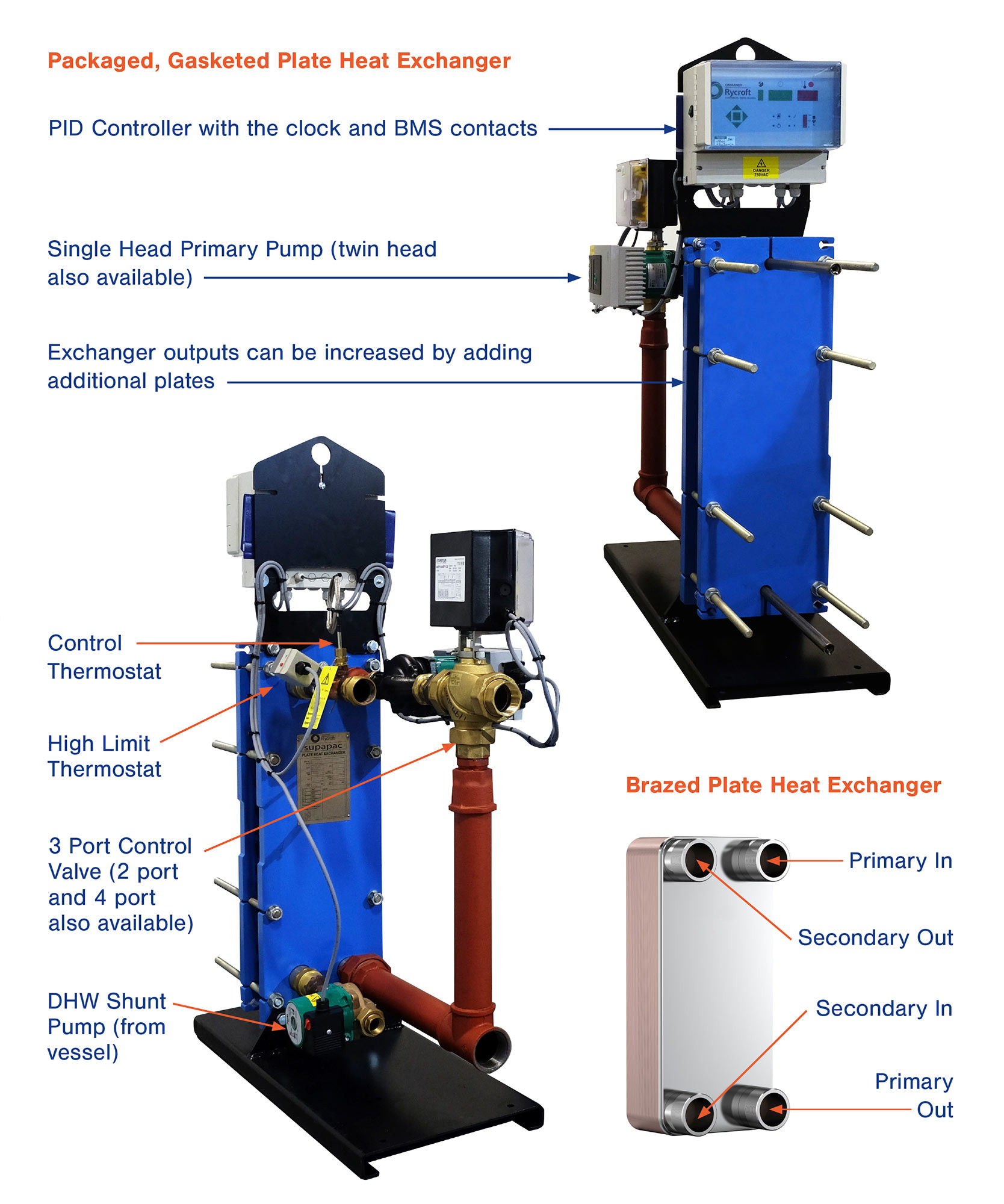 Benefits
Runs on demand with greater speed of response and lower running costs.
Outputs from 0.25L/sec up to 5L/sec. Larger units available.
Choice of materials – stainless steel 316L, 304L & titanium.
High heat transfer coefficients ensure the design surface area is kept to a minimum.
Exchanger outputs can be increased by additional plates.
Exchangers achieve high cross over temperature profiles.
Enhanced energy efficiency and closer control of output.
Low standing losses compared with other exchanger types.
Single or twin head variable speed pump with self-protection built into the pumps for longer pump life.
Night set-back & anti-legionella pasteurisation feature.
Remote operating temperature display and set point adjustment.
Compact design with a small footprint and ease of maintenance.
Vented and Unvented applications with 2,3 or 4 port valve operation and full BMS compatibility.
Need a higher specification for Process Manufacturing?
Ormandy Newade Engineering has established itself as a front runner in the stainless steel fabrication industry. Highly accomplished in design, fabrication, welding and polishing of stainless steel equipment, the quality of the finished vessels are exceptional.
For more information on our product capabilities and industry sectors, click here.

Product enquiry
Thanks for your interest in Plate Heat Exchangers - Gasketed, Brazed & Packaged. Please fill in the following information so that we can get back to you as soon as possible.